This is probably old hat, but have you seen Coraline?
The 2009 movie is based on the novel by Neil Gaiman, and was directed and written for screen by Henry Selick. I right away assumed that Tim Burton was involved in the film, but he was not – this was a surprise to read, considering the visual and style-similarities between Coraline and the Nightmare Before Christmas (and other delightfully creepy Burton-worlds).
Coraline is a girl caught between two worlds, two versions of reality which, in the style of The Lion, the Witch and the Wardrobe, are connected by a portal in her newly-occupied rural home (convenient!). That's all I'll say, plotwise. But check out some of the film's visual and hand-crafted delights!
A doll-making scene opens the film. The vibe is Edward Scissorhands meets hand-sewing. Seam-rippers, buttons, spools, patterns, needles-and-thread come alive (and since doll-making has been my preoccupation for the past couple of weeks, my attention was grabbed. I love these creepy doll-maker's needle-hands.)
The Coraline cast of characters also includes a smooth-talking feline sidekick who accompanies Coraline on her cross-world travels…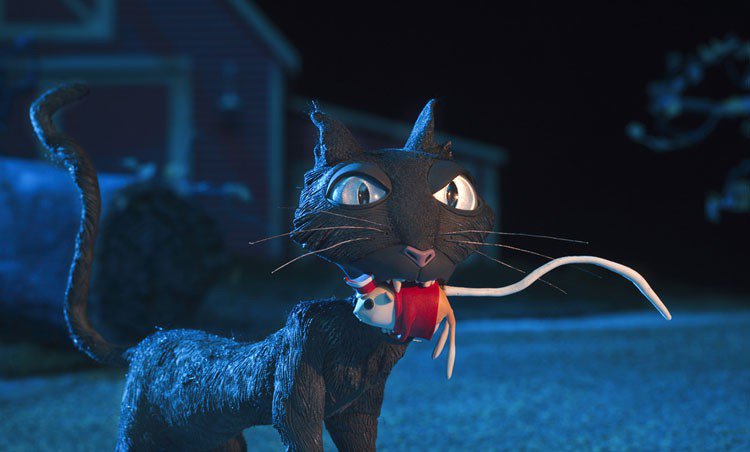 …a duo of aging starlets — Miss Spink and Miss Forcible — and their knitting needle shenanigans….
…and an enthusiastic audience of (what else?) circus-going Scottish terriers.
Last, but not least, of the movie's visual delights: beautiful, super-tiny knitwear.
The above sweater and glove pieces were indeed hand knit by Bloomington, Indiana-based fiber artist, Althea Crome, who specializes in micro-knitting. She is known for her marvelous mini-sweaters, some of which are knit at a gauge of 80 sts to the inch (!) and often feature complex colourwork patterns (all of which are knit rather than embroidered). Here, Althea Crome talks about micro-knitting:
And here I thought working a fingering weight on size 2s was 'small'!
All in all, a fun film! (short post today)
Until next time!